"Janet Morgan's exotic and mystical art captures the intense passionate movement,
spirituality, and grace of bellydance.
We feel the dancer's longing for union with Divinity.
Other works evoke a sense of serenity.
To meditate on the undulating explosions of color and line inspires a gratitude
for the mysterious Spirit behind her expressive work.
I am honored to have been a subject for her brush. "
JEHAN, dancer, composer and director of Goddessdance.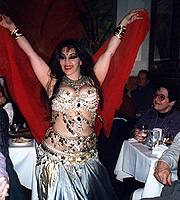 Jehan dancing at Morgan's Opening
at the Lafayette Grill in
New York City, January 2004